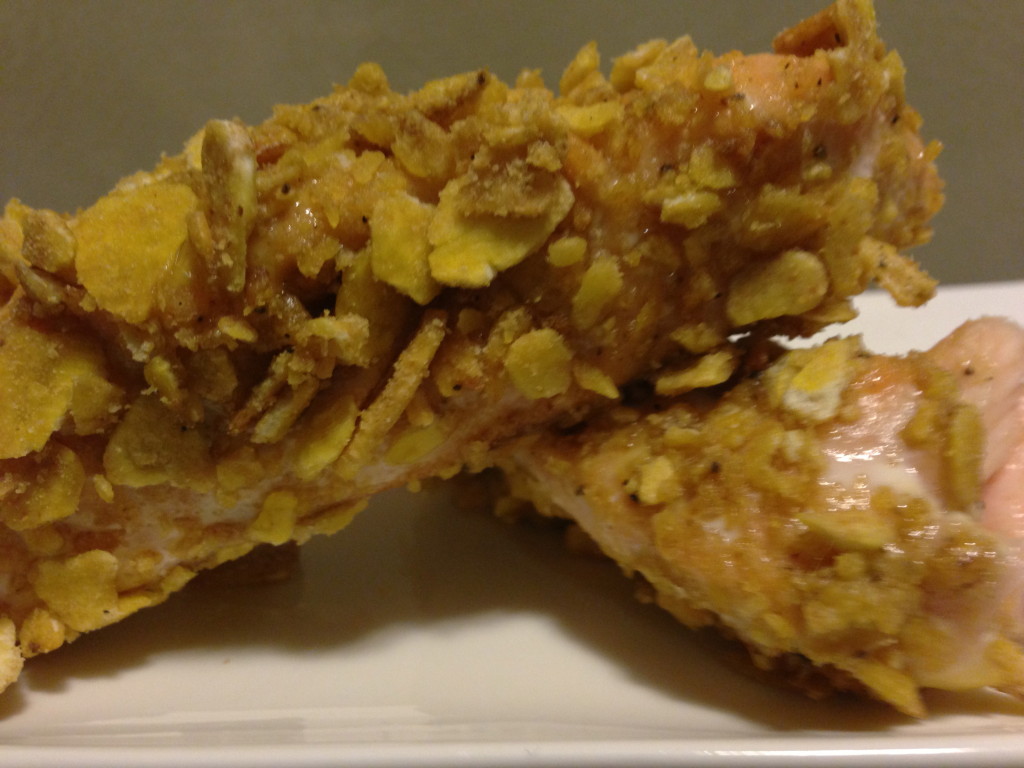 This is an easy dish to do and it goes great with cau­li­flower rice.  You can toss the salmon into the egg mix­ture a day ahead, how­ever it will taste just fine if it has only mar­i­nated for 15 minutes.
Serv­ing: 4
Ingre­di­ents:
1 kg Salmon Fillet
225 g (8 oz) Plan­tain Chips
2 Eggs (free range)
2 tbsp Ghee
1 tsp Salt
1 tsp Pepper
1 tsp Water
Instruc­tions:
Pre­heat oven to 375 degrees F.
Remove bones from salmon and remove skin (optional)
Por­tion salmon into 1 1/2″ steaks.
In a food proces­sor, pulse plan­tains until pea size, then trans­fer to a large ziplock bag (or bowl).
In a large bowl whisk ghee into the eggs.
add salt

&

pep­per to the eggs.  If coat­ing looks too thick, add a lit­tle of the water to thin.
Care­fully, toss salmon into egg coating.
Mix steaks into plan­tain chips, ensur­ing all pieces get a coating.
Space evenly on a large bak­ing sheet.  Cook for 10–12 min­utes or until salmon will flake at touch.
Serve with Paleo rice.
This dish works great for get­ting my lit­tle girls to eat salmon.  They love this fish stick and eat more than their share!  How­ever, if you're in the mood for a Paleo Chicken Fin­ger, you can eas­ily sub­sti­tute salmon for 'Free-Range' Chicken breast.  The remain­ing plan­tain coat­ing can be used for my Plan­tain Kale Chips.
Related arti­cles