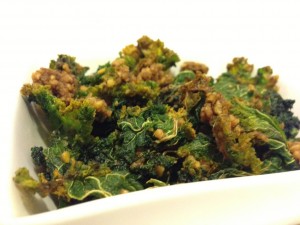 These nutrient dense kale chips are a result of the left over mix from my Paleo Salmon Sticks. Every time I make the salmon, I end up with half a cup of left over plantain mix that I hate throwing out.  I decided to use the left over as a mix to coat my kale chips with a few simple adjustments of adding the honey and if needed the extra virgin olive oil to thin it out.
Makes: 1 Bunch
Ingredients:
4 oz (½ c) Plantain Chips, pulsed until pea sized
3 tbsp Wildflower Honey
1 egg
1 tbsp Ghee
½ tsp Sea Salt
½ tsp Pepper, freshly cracked
1 tsp Extra Virgin Olive Oil (optional).
Instructions:
Pulse Plantain chips until pea sized (1/2 cup).
Clean and tear kale into bite size portions.
Mix remaining ingredients with the plantain chips.
Loosely toss the kale into the mix, ensuring even coat throughout.
Place in a dehydrator overnight.
Ensure kale is dry before removing from dehydrator.
If using oven preheat to 250°F for approximately 20 minutes. Bake until edges are brown but not burnt.
Related articles