Braised Short Ribs with Chocolate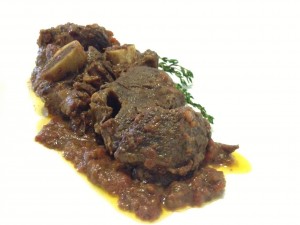 Seeing how it's Easter, I thought some nice GrassFed beef and Chocolate would be a great dinner for our household.  Leng found a nice dish that we used with very little change.  We kept it Paleo by serving it with Paleo Rice and it was so good!
Serving: 4
Ingredients:
2 Bacon Strips, diced
3 lb Beef Short Ribs (Grassfed)
1/2 tsp Sea Salt
1/2 tsp Black Pepper
1 Onion, finely chopped
1 Carrot, finely diced
1 Celery Stalk, finely diced
3 Garlic Cloves, minced
2 c Cabernet Sauvignon (if not using wine, replace with beef stock)
3 c Beef Stock
2 c Tomatoes (diced and drained)
2 tbsp Parsley, chopped
1 tsp Thyme Leaves, removed from stem
1/2 disk Taza Chocolate (or replace with 20g dark chocolate)
1 tbsp Cocoa Powder
1 tsp Fresh Rosemary, chopped
Sea Salt & Pepper to taste
Instructions:
Preheat the oven to 325°F (160°C).
Season Short Ribs with sea salt & freshly cracked pepper.
In a Dutch oven, cook the bacon over medium heat.
Remove bacon, place to side, and sear short ribs in batches.
Remove ribs, place to side.
Add onions, stirring with a wooden spoon to scrape any bits off the bottom of Dutch Oven (about 5 minutes).
Add carrots, celery, stirring for about 2 minutes.
Add garlic, about 1 minute.
Stir in wine, allow to come to a boil, then reduce heat to a simmering boil.
Once wine is practically reduced, add tomatoes, parsley, thyme, bacon and stock.
Add the ribs back to the Dutch Oven, nestling them into the stock mix.
Bring to a boil, then cover and place in the oven.
Cook for 3 hours, turning the ribs half way through.
Remove ribs from sauce, with a ladle skim off the fat.
Bring sauce to a simmer on the stove and reduce to desired consistency.
Reduce heat to low and add chocolate, cocoa, and rosemary.
Season to taste.
Return ribs to Dutch Oven.
Once ribs are warm, serve over Paleo Rice.
If you make this a day ahead, you can remove the ribs (step 13), allow the sauce to cool, refrigerate and it will be easier to discard the fat from the sauce (as it will solidify).  When it comes time to serve the dish, then follow steps 15 to 18, and enjoy!
Adapted in part or in whole from: here