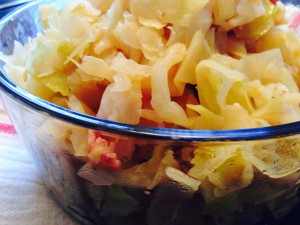 This is a such a sim­ple side dish to any meal and healthy for you too.
Serv­ing: 4–6 Servings
Ingre­di­ents:
½ Green Cabbage
1 small Onion, thinly sliced
4 strips of Bacon (Nat­u­rally raised

&

Antibi­otic free, of course)
Himalayan Sea Salt
Black Pep­per, freshly cracked
Instruc­tions:
Core and cut cab­bage into three wedges.
Slice each wedge of cab­bage into thin strips.
Dice bacon and place into a medium sized pot on medium-low heat.
Add onions, stir­ring occa­sion­ally until they are translucent.
Add cab­bage, stir­ring occasionally.
Once cab­bage has sweated down to about half the orig­i­nal size, sea­son with salt and pepper.
That's it your done.
I love how this side is easy to make.  It's def­i­nitely a bud­get friendly paleo dish!