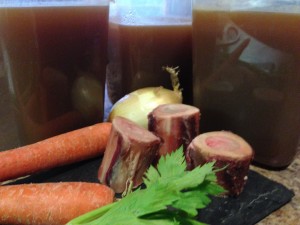 This is a basic beef stock made from scratch.  Definitely more nutritious than any store-bought stocks, especially since you know the quality of ingredients that goes into it.  We use it for everything!
Yield: 3 to 4 Litres
Ingredients:
8 lb. Beef Bones, cut into 3 or 4″ pieces
8 L Cold Water
1 lb. Onions, Chopped
½ lb. Carrots, Chopped
½ lb. Celery, Chopped
5.5 oz Tomato Paste
1 Bay Leaf
4 Thyme Sprigs
¼ tsp Peppercorns
8 Parsley Sprigs
2 Whole Cloves
Instructions:
Preheat oven to 400°F.
Place bones in a roasting pan and brown in oven, approximately 60 minutes.
Remove bones from pan and place in a stockpot, cover with cold water.
Bring to a boil, reduce to a simmer for approximately 20 minutes, skimming off any scum.
Drain the bones and replace with fresh cold water, bringing it back to a simmer.
Toss the vegetables in the drippings in the roasting pan and brown in the oven.
Add the vegetables, tomato paste and herbs and continue simmering for 6 to 8 hours.
Drain using cheesecloth and cool in a water bath.
Discard the scum & solids.
If not using immediately, refrigerate and/or freeze.
I actually use a metal coffee filter to strain my stock instead of cheesecloth, it works really well and I can wash it and use it again.
Related articles