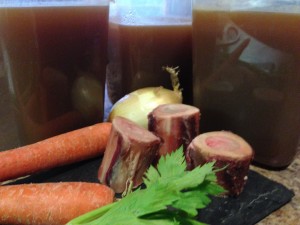 This is a basic beef stock made from scratch.  Def­i­nitely more nutri­tious than any store-bought stocks, espe­cially since you know the qual­ity of ingre­di­ents that goes into it.  We use it for everything!
Yield: 3 to 4 Litres
Ingre­di­ents:
8 lb. Beef Bones, cut into 3 or 4″ pieces
8 L Cold Water
1 lb. Onions, Chopped
½ lb. Car­rots, Chopped
½ lb. Cel­ery, Chopped
5.5 oz Tomato Paste
1 Bay Leaf
4 Thyme Sprigs
¼ tsp Peppercorns
8 Pars­ley Sprigs
2 Whole Cloves
Instruc­tions:
Pre­heat oven to 400°F.
Place bones in a roast­ing pan and brown in oven, approx­i­mately 60 minutes.
Remove bones from pan and place in a stock­pot, cover with cold water.
Bring to a boil, reduce to a sim­mer for approx­i­mately 20 min­utes, skim­ming off any scum.
Drain the bones and replace with fresh cold water, bring­ing it back to a simmer.
Toss the veg­eta­bles in the drip­pings in the roast­ing pan and brown in the oven.
Add the veg­eta­bles, tomato paste and herbs and con­tinue sim­mer­ing for 6 to 8 hours.
Drain using cheese­cloth and cool in a water bath.
Dis­card the scum

&

solids.
If not using imme­di­ately, refrig­er­ate and/or freeze.
I actu­ally use a metal cof­fee fil­ter to strain my stock instead of cheese­cloth, it works really well and I can wash it and use it again.
Related arti­cles