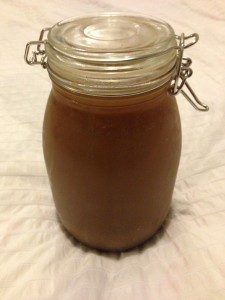 When I was a chef at one of the restau­rants in the Nia­gara Region, we use to keep a stock bag in the freezer.  In this stock bag, we would put all our chicken bones (roasted & raw) along with our onion, car­rot, cel­ery and gar­lic peel­ings.  Once the bag was full, we would make a stock from the con­tents of this bag and just top it up by 'eye' with required ingre­di­ents to bring it closet to the proper ratios.  Now don't get me wrong, if your going to make a con­sommé  this isn't the best stock for such a task.  How­ever, with the Poe Boy's Chicken Stock, you can still get it pretty clear if you really want to put the time and effort into it.  How­ever for me, this is my goto quick stock for my small house­hold. Remem­ber, my ingre­di­ents are organic and the chicken car­casses are from free-range chick­ens, thus keep­ing my stock higher in qual­ity than that box stuff in the super­mar­ket.  All you have to do is fill the bag and when it's full make a stock!
Yield: 3 to 4 Litres
Freezer (Gro­cery) Bag Ingredients:
Chicken Car­casses, whole or par­tial, raw or cooked
Gar­lic ends and/or skins
Car­rot Peel­ings (washed)
Onion Peel­ing (washed) (no red onion skins)
Cel­ery Peel­ings

&

Remains (washed)
Sachet (tied in cheese­cloth) Ingredients:
1 Bay leaf
1 sprig Thyme, fresh
1/8 tsp Peppercorns
2 Pars­ley Stems
1 Whole Clove
Instruc­tions:
In your stan­dard size gro­cery bag, start col­lect­ing car­casses, onion

&

cel­ery

&

car­rot

&

gar­lic peelings.
Keep the bag in your freezer and fill when these items become avail­able dur­ing your cooking.
The night before mak­ing the stock, trans­fer bag from freezer into the fridge.
Place all items in a large pot and cover with cold water (make sure the water cov­ers all bones and vegetables.
Bring to a boil, drain and rinse.
Return the bones to the pot
Roughly by eye, top up your stock with more ingre­di­ents as needed. Ide­ally for every 5 lb. of chicken bones, you're look­ing for a veg­etable ratio of 1/2 lb. of onion skins, 1/4 lb. of car­rot skins, 1/4 lb. of cel­ery parts, and a 1/4 bulbs worth of gar­lic (see notes).
Cover with water, bring to a boil, then reduce to a simmer.
Add the sachet to the stock and con­tinue to sim­mer for 3–4 hours.
Dur­ing the sim­mer­ing process skim the sur­face of any impu­ri­ties that float to the top.
After sim­mer­ing process, pour through a strainer lined with cheesecloth.
Dis­card the solids and let the stock cool.
Use imme­di­ately or cool and refrig­er­ate or freeze.
I know I break down the approx­i­mate ratios of what you should find in the freezer kept gro­cery bag, but this isn't law for the Poe Boy's Chicken Stock. This chicken stock does not fol­low these strict stock guide­lines. I tell you those amounts, so you can 'eye' what's in the bag and when the time comes to make the stock, you can top it up by gues­ti­ma­tion (guess­ing & esti­ma­tion)!
Related arti­cles