2−2−1 Smoked Baby Back Ribs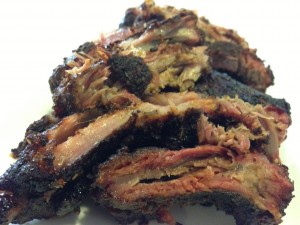 Happy belated birth­day Canada! Yes­ter­day was an excel­lent day, not only was it Canada's birth­day, but it was also my mother's birth­day (a mile­stone birth­day, but it's not my place to say how old).  Since my mother isn't a big fan of pork and I was in the mood for some great fall off the bone ribs, the fam­ily and I had my 2−2−1 Smoked Ribs for lunch.  How­ever, for my mother's birth­day, among other things, we served Nom Nom Paleo's Damn Fine Chicken with our Tomato & Green Bean Salad.

2−2−1 Smoked Baby Back Ribs
Serv­ing: 2 Racks
Ingre­di­ents:
2 Racks of Baby Back Ribs
2 oz Maple Syrup
1.5 tbsp Chili Powder
1 tbsp Smoked Paprika
1 tbsp Gar­lic, granulated
2 tsp Cumin, ground
2 tsp Pep­per, black
2 tsp Oregano
1 tsp Cayenne
2 tsp Onion Powder
2 tsp Sea Salt
4 cup Apple Wood Chips (soaked)
Smoker Instruc­tions (no smoker? — BBQ Instruc­tions here):
Remove the mem­brane on the back of the ribs using a pair of pli­ers — ded­i­cated for kitchen use.
In a bowl com­bine all ingre­di­ents except the maple syrup

&

wood chips.
Rub all over both sides of the ribs, then place into a reseal­able plas­tic bag and refrig­er­ate over night.
Remove from fridge and allow the meat to come to room temperature.
Pre-heat the smoker to 225 degrees C.
Place two cups of soaked apple wood chips into the smoker.
Replace the chips in an hour.
After the sec­ond hour remove the ribs, driz­zle on the maple syrup, wrap in foil and cook for 2 more hours.
If serv­ing dry or cook for 1 more hour while bast­ing with choice of

BBQ

sauce, such as my Berry-Blues Bar­be­cue Sauce.
Serve it with your choice of veg­eta­bles, such as Roasted Heir­loom Car­rots or Paleo Rice.
BBQ Instruc­tions:
How­ever if using a

BBQ

, turn only one side on reach­ing a tem­per­a­ture of 225 degrees C.
Pre­pare smoke pouches by plac­ing 1000 ml of hick­ory wood chips into a bowl of cold water to soak for 1 hour.
Build 2 smoke pouches with 2 cups (500 ml) of drained chips and a 1 cup dry.
Place a pouch on the hot side and ribs on cool side.
Replace pouch in one hour, with sec­ond pouch.
After sec­ond hour, remove pouch.
Driz­zle syrup on ribs, wrap in foil and cook on cool side for 2 hour.
Remove from foil and cook on cool side for 1 hour, bast­ing with Berry-Blues Bar­be­cue Sauce.
If you like your ribs dry, you can forgo the last hour and just eat out of the smoker. If you're going to refrig­er­ate the ribs, best to do it before the last hour when sauc­ing the ribs.