2-2-1 Smoked Baby Back Ribs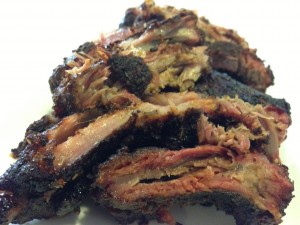 Happy belated birthday Canada! Yesterday was an excellent day, not only was it Canada's birthday, but it was also my mother's birthday (a milestone birthday, but it's not my place to say how old).  Since my mother isn't a big fan of pork and I was in the mood for some great fall off the bone ribs, the family and I had my 2-2-1 Smoked Ribs for lunch.  However, for my mother's birthday, among other things, we served Nom Nom Paleo's Damn Fine Chicken with our Tomato & Green Bean Salad.

2-2-1 Smoked Baby Back Ribs
Serving: 2 Racks
Ingredients:
2 Racks of Baby Back Ribs
2 oz Maple Syrup
1.5 tbsp Chili Powder
1 tbsp Smoked Paprika
1 tbsp Garlic, granulated
2 tsp Cumin, ground
2 tsp Pepper, black
2 tsp Oregano
1 tsp Cayenne
2 tsp Onion Powder
2 tsp Sea Salt
4 cup Apple Wood Chips (soaked)
Smoker Instructions (no smoker? – BBQ Instructions here):
Remove the membrane on the back of the ribs using a pair of pliers – dedicated for kitchen use.
In a bowl combine all ingredients except the maple syrup & wood chips.
Rub all over both sides of the ribs, then place into a resealable plastic bag and refrigerate over night.
Remove from fridge and allow the meat to come to room temperature.
Pre-heat the smoker to 225 degrees C.
Place two cups of soaked apple wood chips into the smoker.
Replace the chips in an hour.
After the second hour remove the ribs, drizzle on the maple syrup, wrap in foil and cook for 2 more hours.
If serving dry or cook for 1 more hour while basting with choice of BBQ sauce, such as my Berry-Blues Barbecue Sauce.
Serve it with your choice of vegetables, such as Roasted Heirloom Carrots or Paleo Rice.
BBQ Instructions:
However if using a BBQ, turn only one side on reaching a temperature of 225 degrees C.
Prepare smoke pouches by placing 1000 ml of hickory wood chips into a bowl of cold water to soak for 1 hour.
Build 2 smoke pouches with 2 cups (500 ml) of drained chips and a 1 cup dry.
Place a pouch on the hot side and ribs on cool side.
Replace pouch in one hour, with second pouch.
After second hour, remove pouch.
Drizzle syrup on ribs, wrap in foil and cook on cool side for 2 hour.
Remove from foil and cook on cool side for 1 hour, basting with Berry-Blues Barbecue Sauce.
If you like your ribs dry, you can forgo the last hour and just eat out of the smoker. If you're going to refrigerate the ribs, best to do it before the last hour when saucing the ribs.