Primal Beef Stew in Cabernet Sauce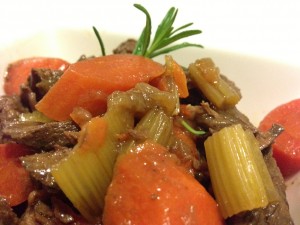 This is oh, so simple, yet so tender and tasty, you'll find yourself eating it before you get it to the bowl!
Serving: 6
Ingredients:
2 lbs Stewing Beef (grass-fed)
2 tbsp Coconut Oil
2 c Beef Stock
½ c Cabernet Sauvignon or other Red Wine (optional, however it won't be a Cabernet sauce)
1 tbsp Worcestershire Sauce
3 Garlic Cloves, peeled & smashed
2 Sprigs of Rosemary, removed from stem & fine chop
2 Bay Leaves
2 Onions, sliced
1 tsp Sea Salt
1 tsp Honey
½ tsp Pepper, freshly cracked
½ tsp Paprika
Dash of Cloves
3 lg Carrots, sliced
3 Celery Stalks, chopped
Instructions:
In a dutch oven over medium heat, brown meat in hot oil.
Remove seared beef from dutch oven.
Add onions and stir with a wooden spoon until caramelized, scraping up any bits.
Deglaze with wine until almost evaporated (optional, however it won't be a Cabernet sauce).
Return beef to dutch oven.
Add stock, Worcestershire sauce, garlic, bay leaves, rosemary, sea salt, honey, pepper, paprika, and cloves.
Cover and simmer 1 ½ hours.
Add carrots and celery.
Cover and cook 30 to 40 minutes longer.
Remove bay leaves and serve.