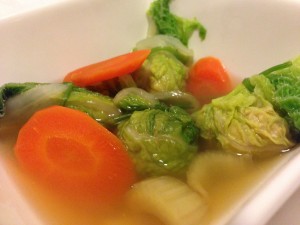 WonTon soup was definitely a comfort food that was missed in our household, until we decided to try replacing the wrapper with the 'oh so' nutrient dense, Napa Cabbage.
6 Servings
Ingredients:
½ head Napa Cabbage, leaves
¾ lb Pork, lean ground
¼ lb Shrimp, roughly diced
2 tbsp Coconut Aminos
2 Garlic Cloves, minced
3 Green Onions (white portion only, diced)
2 l Poe Boy's Chicken Stock of (other stock)
2 tbsp Fish Sauce (Paleo Friendly Red Boat)
1 c Water
3 Carrots, peeled & sliced on the bias
2 ribs Celery
Sea Salt & Fresh Pepper to taste
1 bunch Chives
Instructions:
Simmer stock, water, carrots, celery and fish sauce in a pot.
Sea salt and pepper to taste.
Combine in a large bowl; shrimp, pork, chestnuts, whites of green onions, coconut aminos, garlic and 1 tsp each of sea salt & pepper.
Cut off hard stalk from Napa Cabbage leaves and steam till soft.
Pat dry with paper towel and cut leaves in half lengthwise.
Wrap a tbsp of meat mix in cabbage leaf (like a purse) and tie closed with chive.
Place in stock for approximately 15-20 minutes.
Serve.
We like to eat ours with Paleo Sriracha, Yum!