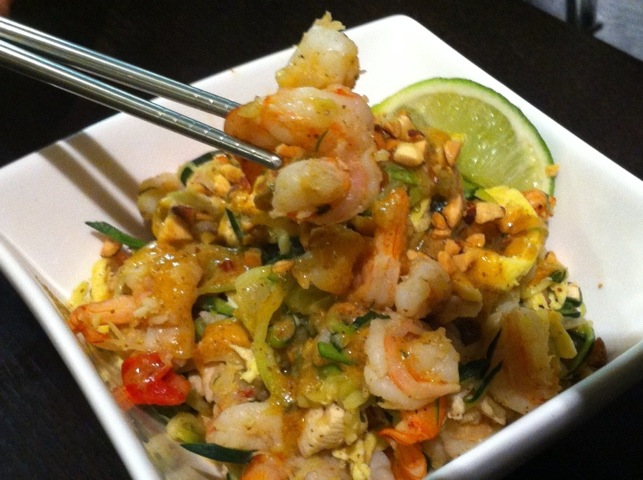 The spiciness of the chili with the flavour of the almond butter makes this protein rich dish a favourite in my household. Depending on your personal preference you might need to adjust the heat level.
4 Servings
Ingredients:
3 tbsp Coconut Oil
1 tbsp Butter
4 Zucchini
1 Chicken Breast (boneless & skinless)
1 lb Shrimp
1 Egg
Carrot, shredded (optional)
1 Onion, diced
4 Garlic Cloves, minced
2 tbsp Ginger, fresh & minced
3 tbsp Almond Butter
1 tbsp Apple Cider Vinegar
1 tbsp Fish Sauce
2 tbsp Chili Garlic Sauce
2 Limes (1 for garnish)
12 Thai Basil Leaves, julienne
Salt & Pepper
handful Almonds, chopped
12 Grape Tomatoes, halved (optional)
Instructions
Slice your zucchini thin to form long noodle strands (a Plastic Spiral Vegetable Slicer is an excellent tool for making vegetable noodles, however a mandoline will work for this ).
Chop chicken into 1/4 inch pieces.
Mix together almond butter, cider vinegar, fish sauce, chili sauce and juice of 1 lime.
Scramble egg in a bowl and place to the side.
In a large frying pan sauté the onions in the coconut oil & butter over medium heat (have an extra frying pan and a colander readily available).
Brown the chicken in onions, follow closely with garlic and ginger.
Add almond butter mix and carrots, stirring frequently.
Turn heat up to medium-high and toss in zucchini and shrimp, which will take from 5 to 10 minutes. Shrimp will turn pink and start to curl and zucchini Al dente.
In second pan, cook egg omelette style, remove from pan and keep pan ready with colander.
Strain the zucchini over the second pan.
Add tomatoes & basil to the liquid and reduce over high heat.
Slice up the egg and mix with the zucchini and reduced liquid.
Garnish with almonds and a lime wedge.
Season with salt and pepper.