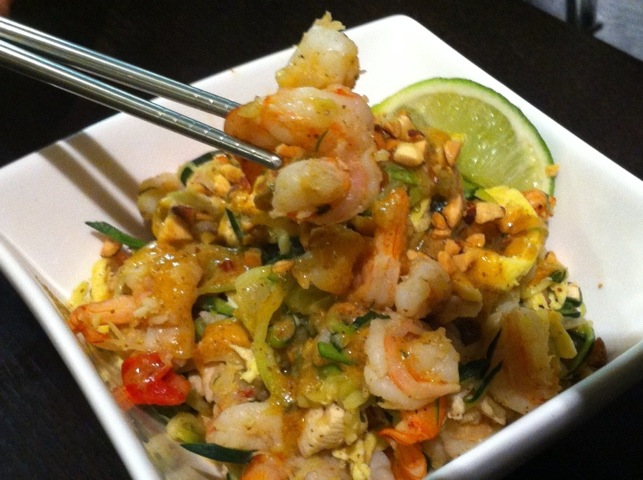 The spici­ness of the chili with the flavour of the almond but­ter makes this pro­tein rich dish a favourite in my house­hold.  Depend­ing on your per­sonal pref­er­ence you might need to adjust the heat level.
4 Serv­ings
Ingre­di­ents:
3 tbsp Coconut Oil
1 tbsp Butter
4 Zuc­chini
1 Chicken Breast (bone­less

&

skinless)
1 lb Shrimp
1 Egg
Car­rot, shred­ded (optional)
1 Onion, diced
4 Gar­lic Cloves, minced
2 tbsp Gin­ger, fresh

&

minced
3 tbsp Almond Butter
1 tbsp Apple Cider Vinegar
1 tbsp Fish Sauce
2 tbsp Chili Gar­lic Sauce
2 Limes (1 for garnish)
12 Thai Basil Leaves, julienne
Salt

&

Pepper
hand­ful Almonds, chopped
12 Grape Toma­toes, halved (optional)
Instruc­tions
Slice your zuc­chini thin to form long noo­dle strands (a Plas­tic Spi­ral Veg­etable Slicer is an excel­lent tool for mak­ing veg­etable noo­dles, how­ever a man­do­line will work for this ).
Chop  chicken into 1/4 inch pieces.
Mix together almond but­ter, cider vine­gar, fish sauce, chili sauce and juice of 1 lime.
Scram­ble egg in a bowl and place to the side.
In a large fry­ing pan sauté the onions in the coconut oil

&

but­ter over medium heat (have an extra fry­ing pan and a colan­der read­ily available).
Brown the chicken in onions, fol­low closely with gar­lic and ginger.
Add almond but­ter mix, stir­ring frequently.
Turn heat up to medium-high and toss in zuc­chini and shrimp, which will take from 5 to 10 min­utes.  Shrimp will turn pink and start to curl and zuc­chini Al dente.
In sec­ond pan, cook egg omelette style, remove from pan and keep pan ready with colander.
Strain the zuc­chini over the sec­ond pan.
 Add toma­toes

&

basil to the liq­uid and reduce over high heat.
Slice up the egg and mix with the zuc­chini and reduced liquid.
Gar­nish with almonds and a lime wedge.
Sea­son with salt and pepper.