Chicken Pesto-Zucchini Pasta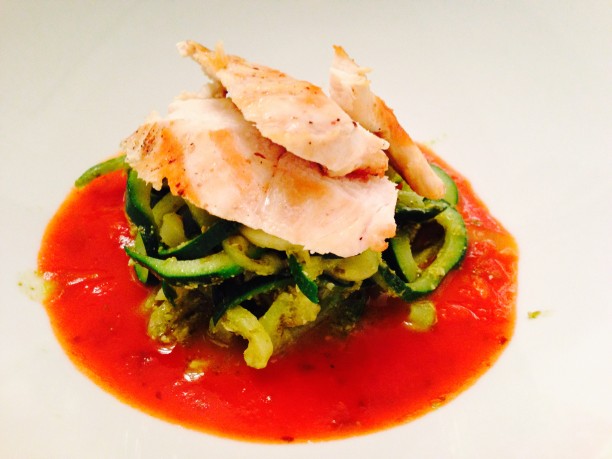 When I use to eat copious amounts of pasta, one of my favourite dishes we made at Chef Greg's restaurant "The Cellar Bench", was the Chicken Asiago!  This dish consisted of Penne tossed in house made basil pesto, laid on a plate of in-house red sauce (tomato sauce) topped with sliced, grilled and seasoned chicken breast then finished off with a chiffonade of Asiago cheese!  Well I had to recreate this flavour profile for the Paleo world…
Yield: 4 Portions
Ingredients:
4 Chicken Breasts
4 Zucchini
4 tbsp Basil Pesto
4 oz Red Sauce (tomato sauce)
Himalayan Sea Salt & Fresh Pepper to taste
Instructions:
Season chicken with salt & pepper and grill on medium high heat.
Have a pot of water simmering for steaming the Zucchini.
Warm up red sauce and keep at a low simmer.
Slice zucchini into thin strips lengthwise (I use this Vegetable Spiral Slicer).
2-to-3 minutes before the chicken is fully cooked, steam the zucchini until al dente.
Spoon red sauce onto the plate.
Toss zucchini with the pesto and plate on top of the red sauce.
Slice chicken on the bias and place over the noodles.
Serve and enjoy.
Basil Pesto
Ingredients:
3 bunches Basil
½ c Extra Virgin Olive Oil
¼ c Pine Nuts
3 cloves Garlic
Himalayan Sea Salt & Fresh Pepper to taste
½ c Parmasean, grated (optional)
Instructions:
Put basil leaves and garlic into a food processor.
Combine while slowly adding the olive oil. 
Add pine nuts and parmesan (optional).
Taste and season.
Red Sauce
Ingredients:
4 – 28oz Cans of Plum Tomatoes
4 Onions, minced
4 Garlic Cloves, minced
1 tsp Oregano, dried
1 tsp Thyme, dried
1 tsp Basil, dried
1 oz Coconut Oil
Himalayan Sea Salt & Fresh Pepper to taste
Instructions:
On low heat, sauté onions with the oil in a large pot.
Once onions are translucent add garlic and herbs, cook for a few minutes (do not allow the garlic to burn).
Add tomatoes to the onions and puree using an emulsion blender.
Simmer until reduced to two thirds and season to taste.
Use immediately or cool and freeze.
There's nothing better then making your own pesto or red sauce from scratch, it's so much fresher, but there are great products on the market if you do not have the time.