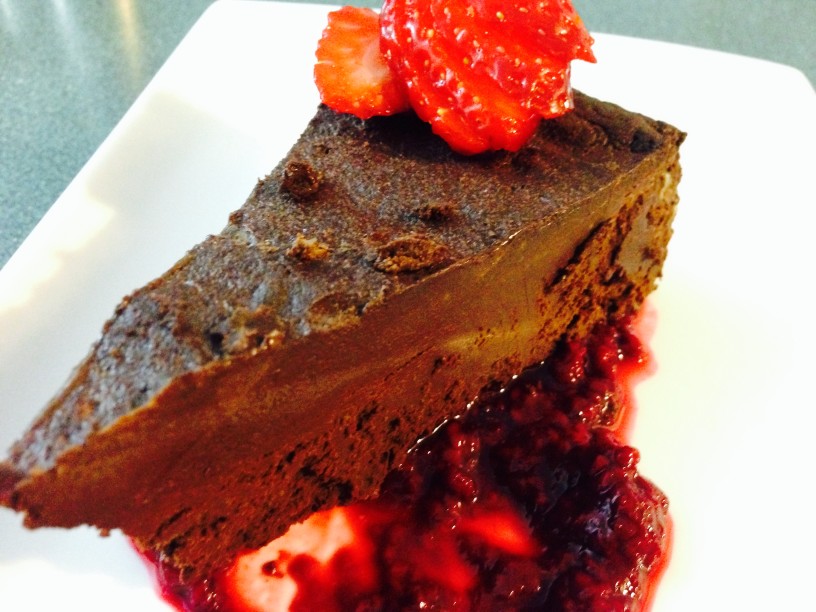 When I was a Chef at the Cellar Bench Restaurant & Winebar, my favourite chocolate dessert to make was our rich, Chocolate Oblivion.  Patrons would order this dish on full stomachs and endure the pain of trying to finish it!  This is a classic truffle torte created from Rose Levy Beranbaum and although the chocolate's roughly only 60%, with only 3 ingredients it's still pretty much Paleo.
Serves: 12
Preheat oven to 425°C.
Ingredients:
454 g Semi-Sweet Chocolate
6 Eggs, large
227 g Butter, unsalted
Instructions:
Place a pot with some water on the stove bring to a boil, then reduce below simmer.
Line the bottom of an 8″ springform with parchment paper, then rub butter on the sides of the pan and the parchment paper.
In a stainless steel bowl melt the chocolate & butter over the pot of hot water, stirring occasionally with a spatula (make sure the water doesn't come to a boil and the bowl doesn't touch the water).
Once melted remove it from heat.
Place eggs in a separate bowl and whisk over the pot of water, until eggs are warm to touch.
Remove eggs from heat and transfer to mixer and beat on high with wire attachment until it triples in volume, approximately 5 minutes.
Pour one third of the egg at a time into the chocolate and fold into the chocolate with the spatula.  Complete this until egg and chocolate is incorporated.
Pour the chocolate mixture into the springform pan.
Place the springform pan in foil, then in a larger pan with water, creating a water bath (the foil is used to keep the water from leaking into the spring from pan).
Bake for 15 minutes, then remove springform from water bath and cool for 45 minutes.
Let the chocolate set in the fridge for 4 hours before removing from pan and serving.
Serve with berries & whipped coconut cream.
There are a few variations you can do with this such as add chili flakes or cinnamon or even nuts or dried fruit.  If you decide to add a liquid, that's when it gets a little tricky and you might not achieve the same results.  If you attempt to use higher than the 62% chocolate, you tend to lose the beautiful truffle like texture, resulting in a more dense product.
Adapted in part or in whole from: Here