Vanilla-Bean Paleo Ice Cream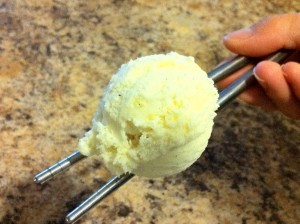 I scream! You scream! We all scream for (Dairy free) Ice Cream?  That's right, ice cream made from coconut milk to be exact.  I'm not saying I would not have ice cream made from yogurt with probiotics (that would help the gut flora), made from grass eating, free range, antibiotic & drug hormone-free cows.  Oh, and only sweetened with a local wildflower honey!  However, it is easier to find a can of full fat coconut milk in many of my local stores.  This recipe is so easy to make with just 5 ingredients.  The most difficult thing about this recipe is making sure you don't overcook the custard and end up with scrambled eggs!  I've made custard thousands of times during my professional cooking career and it still happens once in a blue moon.
Makes:  500 ml
Ingredients:
1 can Coconut Milk (80% or higher versus water)
4 Eggs yolks
2 Vanilla Beans
3 tbsp Honey (preferably Wildflower)
1 Lemon, Zest
Instructions:
Put a can of coconut milk into fridge overnight, do not shake.
Open can and remove, separate the milk from water (save water for other dishes).
Place coconut milk into a double boiler or in a stainless steel bowl.
With a sharp knife separate seeds from vanilla beans and stir them into the coconut milk.
In a separate bowl stir together yolks and honey, then set aside.
Bring double boiler to a boil, then reduce to a light rumble (if using a steel bowl – put water in a pot smaller then the steel bowl, bring to boil then drop down to a light rumble).
While constantly stirring the coconut milk with a 

wooden spoon,

 place the stainless steel bowl over the water, treating it like a custard (taking it on and off the heat, you don't want to boil the milk).
Discard vanilla pods.
Whisk the eggs and honey together and slowly ladle the hot milk into the eggs, this is known as tempering (take your time, if you go to quickly you'll have scrambled eggs).
Once all is incorporated, return to double boiler, stirring over medium heat.
During this stage you are constantly stirring; waiting for your custard to thicken (to coat back of spoon), approximately 15-20 minutes.
Remove from heat, cover and refrigerate until cool.
Once cooled place in ice cream maker and mix for about 20-25 minutes or to desired thickness.
Enjoy, I like mine with berries!