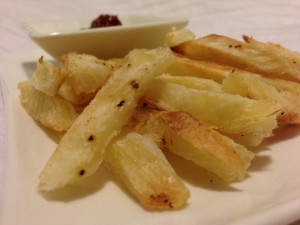 Who doesn't like french fries? If my girls see french fries, they want them. Luckily for my two little kindergarten girls, this Cassava (Yuca) Fry recipe is simple to make.  My girls like it with their favourite dip Caveman Ketchup, but you could easily add some spice to this Mayonnaise.  Oh, and it's baked not fried!
Serves: 4-6
Ingredients:
1 large (2 lbs) Cassava Root
2 tbsp Lard or Ghee
1 tbsp Black Pepper
Sea Salt to taste
Instructions:
Preheat oven to 475°F.
Peel skin off of the root, removing all brown spots and any purple layer underneath.
Cut root in half, remove any of the visible fibrous centre core and discard the core.
Using a mandoline, cut root into half inch fries (use knife if you don't have a mandoline).
Place fries in a large pot of cold salted water and bring to a boil.
Boil for 10-12 minutes (fries should be al dente – firm, not mushy).
 Drain the Cassava, return to pot, coat with the lard, sea salt and pepper.
Transfer fries in a single layer on to a baking sheet.
Bake for 15 minutes, flip and finish for 10-12 minutes or until lightly golden in colour.
Serve and enjoy.
If you want to add any other seasoning, add your choice of flavour before placing in the oven.
Related articles