Beef-Liver Pistachio Terrine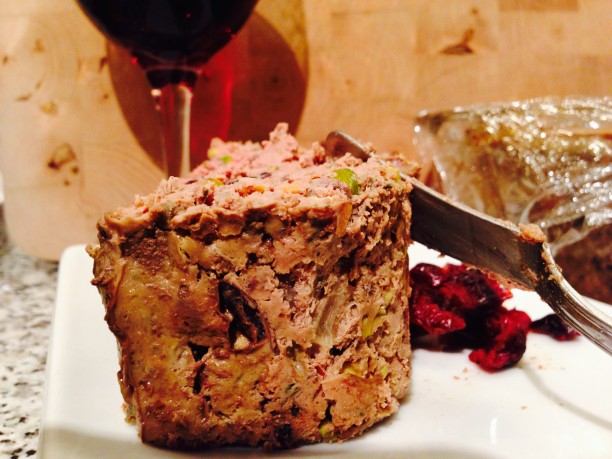 This is a flavour­ful way to serve beef liver to those that are not crazy about the taste.  My daugh­ters absolutely hate the taste of liver and I haven't found a flavour pro­file to change this atti­tude of their taste buds…until I made this recipe.  Still sophis­ti­cated enough for adults, yet mild enough for kids.  This is a win-win way of get­ting grass-fed beef liver into your diet and actu­ally enjoy­ing it!
Yield: 1 Loaf
Ingre­di­ents:
1 ½ lb Beef Liver
½ lb Chicken, ground
100 g Cran­ber­ries, dried
1 Lemon, Zest
2 tbsp thyme, fresh finely chopped
2 tbsp Sage, fresh finely chopped
Sea Salt

&

Pep­per, freshly cracked
100 ml Sherry
100 g Vidalia Onions, diced
100 g Pis­ta­chios, raw shelled
1 Egg
10 Bay Leaves
1 oz Butter
Instruc­tions:
Mince the liver and chicken together (I pulsed it in a food proces­sor, being care­ful not to let the liver and chicken heat up).
Com­bine in a bowl the liver mix­ture with cran­ber­ries, herbs, zest, egg, sea­son­ing and sherry.
Cover and let mar­i­nate overnight in the refrigerator.
Remove from refrig­er­a­tor and pre­heat oven to 300 Degrees.
Sauté onions and gar­lic until translucent.
Add to the liver mix­ure and put in the pistachios.
In a loaf pan, layer the bay leaves on the bot­tom, them spoon in the mixture.
Cover loosely with foil.
Cook for 2 hours.
Cool, chill and serve.
This ter­rine works great for din­ner par­ties or can be por­tioned up and frozen for other nights!