Beef-Liver Pistachio Terrine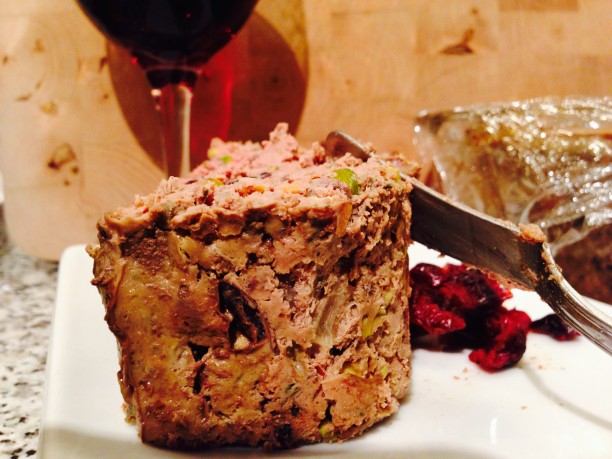 This is a flavourful way to serve beef liver to those that are not crazy about the taste.  My daughters absolutely hate the taste of liver and I haven't found a flavour profile to change this attitude of their taste buds…until I made this recipe.  Still sophisticated enough for adults, yet mild enough for kids.  This is a win-win way of getting grass-fed beef liver into your diet and actually enjoying it!
Yield: 1 Loaf
Ingredients:
1 ½ lb Beef Liver
½ lb Chicken, ground
100 g Cranberries, dried
1 Lemon, Zest
2 tbsp thyme, fresh finely chopped
2 tbsp Sage, fresh finely chopped
Sea Salt & Pepper, freshly cracked
100 ml Sherry
100 g Vidalia Onions, diced
100 g Pistachios, raw shelled
1 Egg
10 Bay Leaves
1 oz Butter
Instructions:
Mince the liver and chicken together (I pulsed it in a food processor, being careful not to let the liver and chicken heat up).
Combine in a bowl the liver mixture with cranberries, herbs, zest, egg, seasoning and sherry.
Cover and let marinate overnight in the refrigerator.
Remove from refrigerator and preheat oven to 300 Degrees.
Sauté onions and garlic until translucent.
Add to the liver mixure and put in the pistachios.
In a loaf pan, layer the bay leaves on the bottom, them spoon in the mixture.
Cover loosely with foil.
Cook for 2 hours.
Cool, chill and serve.
This terrine works great for dinner parties or can be portioned up and frozen for other nights!