Beef Tataki on a bed of Sunflower Sprouts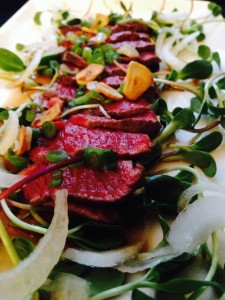 The first time that I had beef tataki was at a restau­rant called Spoon and Fork.  I enjoyed it so much that I had to make my ver­sion to see what was in it.
Being a steak lover, it was such a sim­ple dish that I could make and eat as an appe­tizer everyday.
Serv­ing: 2 small Platters
Ingre­di­ents:
Tosa-Zu Sauce
5 tbsp Coconut Aminos
½ c Rice Vine­gar, organic
1/3 c Shi­itaki Mushrooms
1 tsp Black Pep­per, freshly cracked
2 Thai Chili, fresh
Beef Tataki
7 oz Beef Ten­der­loin (grass-fed)
1 tbsp Black Pep­per, freshly cracked
2 oz Coconut Oil
2 tbsp Green Onion, thinly sliced
3 Gar­lic Cloves
1 small Vidalia Onion
1 c Sun­flower Sprouts
Instruc­tions:
Pat dry ten­der­loin and roll in the tbsp of freshly cracked pepper.
Quickly sear beef in coconut oil until no red is vis­i­ble, then remove from heat immediately.
Allow to rest to room tem­per­a­ture before thinly slic­ing.  Place ten­der­loin in freezer to allow it harden for eas­ier slic­ing (this can be done hours ahead, enabling bet­ter, thin­ner slice of ten­der­loin steak).
Com­bine vine­gar and coconut aminos, then heat in a small saucepan, to a low simmer.
Add Shi­itaki mush­rooms and remove off heat.
Once cooled, strain to remove the mushrooms.
Thinly slice and add sliced Thai chili peppers.
Thinly slice gar­lic and cook on low in remain­ing oil until golden brown (if needed replace old oil), then drain on paper towel.
Thinly slice green onions and Vidalia onion.
Thinly slice the beef.
Arrange ten­der­loin slices on a bed of sun­flower sprouts and Vidalia onions.
Top the thinly sliced medal­lions with green onion and the garlic.
Gen­er­ously driz­zle the Toza-Zu sauce over the ten­der­loin and serve.
This is a great party dish, that is healthy, tasty and might even con­vert some vegan friends 😉