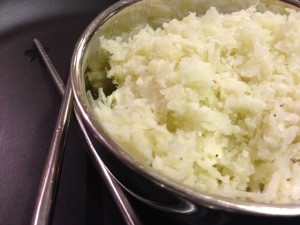 This dish is a simple staple in the Paleo world. You can eat Paleo rice on its own or as a side with various other Caveman Cuisines.
Batch: 3-4 Cups
Ingredients:
1 Head of Cauliflower
½ Onion
2 tbsp Ghee
Sea Salt & White Pepper to taste.
Instructions:
Using a box grater, grate up the cauliflower.
Mince the onion.
Using a frying pan on medium-high heat, sauté the onion in the ghee butter, until the onion becomes translucent.
Add cauliflower to the pan, cooking for about 5 minutes.
Add salt & pepper, remove from heat and serve.
Treat this just like rice, add mushrooms or garlic if you like. That's right just like rice but so much more nutritious!
Related articles