Bacon Wrapped Butternut Skewers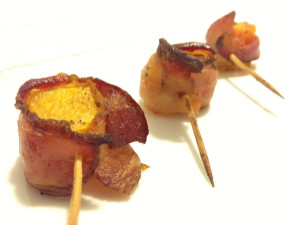 My good friend Linc has been harassing me for a good recipe with butternut squash. However in our house Tai-Tai doesn't like using it as a mash, instead it is mainly used as the pasta in our Primal Lasagna or our Butternut Soup. However, I thought I could find him a good appetizer that could be a major player and not take the back seat to other ingredients. So here you go Linc, I expect a comment on this one!
Preheat Oven: to 350 degrees F
Batch: 24 (approx.)
Ingredients:
1/2 Small Butternut Squash
1 lb Bacon
1 tbsp Coconut oil
1 tsp Smoked Chipotle Powder
1 tsp Pepper, freshly cracked
1/2 tsp Garlic Powder
1 sprig Fresh Rosemary
Instructions:
Peel, remove seeds and cut squash into 1 inch cubes.
Mix spices in coconut oil.
Toss cubes in spices.
Cut bacon strips in half and wrap around cubes, keeping in place with toothpicks.
Bake on sheet for 20 minutes, flip skewers, cook for 20 minutes more.
Enjoy!
You can cut the bacon into thirds if it will still wrap around the squash.