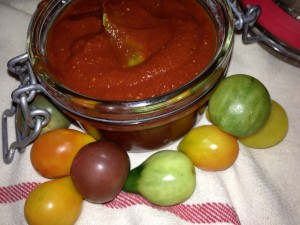 When you have kindergarten kids in the house, ketchup is like a crack addiction to them.  Luckily Xin-Yi and Jing-Yi are big fans of this sugar-free, Paleo version of ketchup!
Batch: 250 ml
Ingredients:
6 oz (150 g) Tomato Paste (sodium free)
2 tbsp Apple Cider Vinegar
1/4 tsp Mustard Powder
1/4 tsp Cinnamon
1 pinch Sea Salt
1/2 c Water
1 Garlic Clove
Instructions:
Combine with all ingredients except the garlic and bay leaf.
Add combined ingredients into a medium sized pan.
Quarter garlic.
Bring to a boil stirring frequently.
Add garlic and bay leaf, then reduce to a simmer for 20-30 minutes, stirring occasionally.
Reduce to desired consistency, then allow to cool.
Remove bay leave and use immediately or refrigerate.
If it gets too thick, just thin it out with some water.  Leave the garlic in the ketchup to infuse, but do not serve the garlic with the ketchup.
Related articles