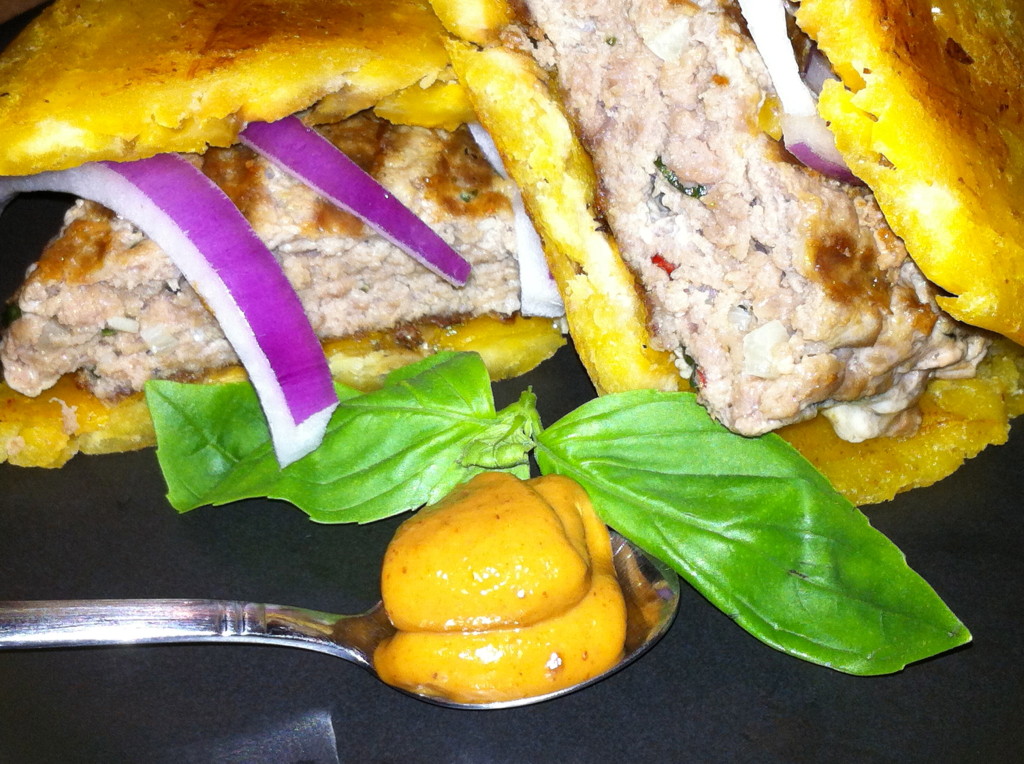 I'm always looking for some type of substitution for the sandwich, since I've been Primal and this one is a great tasting alternative. Now because the bread is pan-fried, it's not an everyday sandwich.
4 Servings
Ingredients:
Patty
1 lb Lamb, Ground
3 Garlic Cloves, minced
4 Fresh Basil Leaves, Julienne
1 tbsp Fresh Rosemary, chopped
½ tsp Fresh Thyme, chopped
2 Eggs
1 chili
Salt & Pepper
2 Plantains
4 Tbsp Coconut Oil
Salt & Pepper
½ Red Onion, sliced
1 Chipotle Pepper
¼ c Mayonnaise
Instructions:
Cut the plantains in half, then cut them in half again lengthwise.
Slice onions and set to the side.
Heat oil in a frying pan and sauté plantains until they are golden brown.
Remove and place on a cooling rack to allow for dripping of excessive oil.
Mix all patty ingredients and separate into 4 equal portions.
Place one cooked plantain at a time between two cutting boards and press to flatten to 1/4 inch thickness.
Place patties on a grill and cook to desired doneness.
While burgers are cooking return plantains back to frying pan for a second sear and season with salt & pepper.
Dice up chipotle pepper and mix with mayonnaise.
Construct sandwich: plantain, patty, red onions, Chipotle mayonnaise & plantain.
Enjoy!