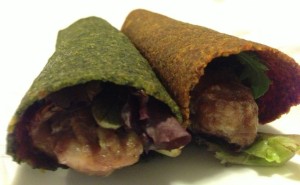 Every once in a while I need a burger and this simple burger is another winner in my house.  A tasty hamburger or is it an all-beef hotdog?  Regardless it's a dog that the girls in my house love.  One of the wraps pictured here are made from Live (Sundried Tomato Wrap – carrots, flax seeds, sun-dried tomatoes, onion, garlic, lemon juice, parsley, oregano, sea salt).
Serving: 8
Ingredients:
2 lb of Grass fed beef
2 Onions, diced
4 Garlic Cloves, minced
1 tbsp Ghee
1 tsp Cumin
2 tbsp Honey
½ tsp Oregano
½ tsp Sea Salt
1 tsp Pepper
8 strips Bacon
1 c Spring Mix Leaves
8 Wraps (Coconut or Sundried Tomato)
Instructions:
Preheat your grill.
On medium heat, sauté onions in ghee until they start to caramelize.
Stir in garlic for 30 seconds and remove from heat
In a large bowl add onions, beef, honey and spices, then mix with hands.
Divide into 8 portions and form into 7-8″ logs.
Wrap bacon around each log.
Cook on grill until all sides are properly seared and the bacon is cooked.
Using wrap of choice, place choice of condiment (be it Caveman Ketchup or Mayonnaise), then Spring mix, and wrap.
Related articles