Sweet Potato Brownies with Strawberry Puree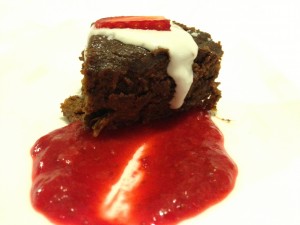 I stole this recipe from PaleoOMG and Oh my goodness it is definitely good, yet tastes sinful… I particularly enjoy adding the Strawberry-Tart Puree (found below) to balance out the sweetness of this delight.
Serves: 6
Preheat oven to 350 degrees C.
Ingredients:
1 Sweet Potato
3 Eggs, whisked
¼ c Extra Virgin Coconut Oil
⅓ c Honey
½ c Dark Chocolate Chips (70% or greater)
3 tbsp Coconut Flour
2 tbsp Cocoa powder, Unsweetened
¼ tsp Baking Powder
¼ tsp Vanilla Extract
¼ tsp Cinnamon
pinch of Sea Salt
Strawberry-Tart Puree
1 pint Strawberries

1 lemon
Instructions
Preheat oven to 425°F.
Puncture holes in the sweet potato and bake for 25-30 minutes, until tender and soft.
Mix whisked eggs into the coconut oil, honey and vanilla.
Mix coconut flour, cocoa powder, baking powder, cinnamon, sea salt and chocolate chips.
Make a well in the dry ingredients and slowly add the wet ingredients while mixing.
Pour into an 8″x8″ glass baking dish.
Bake for  30 to 35 minutes.
Remove stems from strawberries and mash up.
Place strawberries in a pot on medium heat and add juice of one lemon (optional – you can also zest the lemon and add it to either the purée or some coconut cream to dollop on top).
Reduce till the purée is almost a jelly consistency, then remove from heat.
Let brownie cool for 15 minutes.
Slice brownie and place on top of some of the purée.
Add a dollop coconut cream (if you desire) and Serve.
Adapted in part or in whole from: Here
Related articles