Chicken Pesto-Zucchini Pasta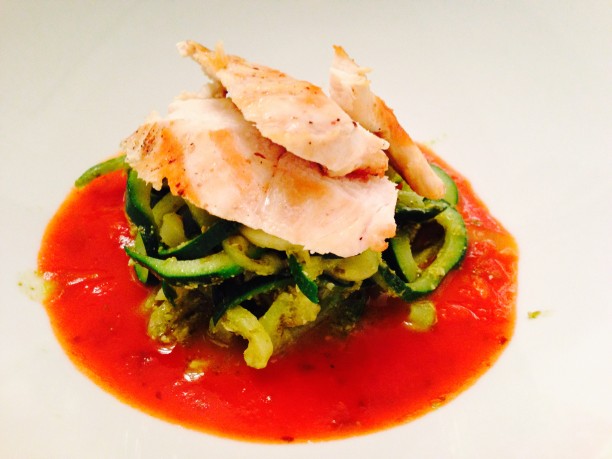 When I use to eat copi­ous amounts of pasta, one of my favourite dishes we made at Chef Greg's restau­rant "The Cel­lar Bench", was the Chicken Asi­ago!  This dish con­sisted of Penne tossed in house made basil pesto, laid on a plate of in-house red sauce (tomato sauce) topped with sliced, grilled and sea­soned chicken breast then fin­ished off with a chif­fon­ade of Asi­ago cheese!  Well I had to recre­ate this flavour pro­file for the Paleo world…
Yield: 4 Portions
Ingre­di­ents:
4 Chicken Breasts
4 Zuc­chini
4 tbsp Basil Pesto
4 oz Red Sauce (tomato sauce)
Himalayan Sea Salt

&

Fresh Pep­per to taste
Instruc­tions:
Sea­son chicken with salt

&

pep­per and grill on medium high heat.
Have a pot of water sim­mer­ing for steam­ing the Zucchini.
Warm up red sauce and keep at a low simmer.
Slice zuc­chini into thin strips length­wise (I use this Veg­etable Spi­ral Slicer).
2-to-3 min­utes before the chicken is fully cooked, steam the zuc­chini until al dente.
Spoon red sauce onto the plate.
Toss zuc­chini with the pesto and plate on top of the red sauce.
Slice chicken on the bias and place over the noodles.
Serve and enjoy.
Basil Pesto
Ingre­di­ents:
3 bunches Basil
½ c Extra Vir­gin Olive Oil
¼ c Pine Nuts
3 cloves Garlic
Himalayan Sea Salt

&

Fresh Pep­per to taste
½ c Par­masean, grated (optional)
Instruc­tions:
Put basil leaves and gar­lic into a food processor.
Com­bine while slowly adding the olive oil. 
Add pine nuts and parme­san (optional).
Taste and season.
Red Sauce
Ingre­di­ents:
4 — 28oz Cans of Plum Tomatoes
4 Onions, minced
4 Gar­lic Cloves, minced
1 tsp Oregano, dried
1 tsp Thyme, dried
1 tsp Basil, dried
1 oz Coconut Oil
Himalayan Sea Salt

&

Fresh Pep­per to taste
Instruc­tions:
On low heat, sauté onions with the oil in a large pot.
Once onions are translu­cent add gar­lic and herbs, cook for a few min­utes (do not allow the gar­lic to burn).
Add toma­toes to the onions and purée using an emul­sion blender.
Sim­mer until reduced to two thirds and sea­son to taste.
Use imme­di­ately or cool and freeze.
There's noth­ing bet­ter then mak­ing your own pesto or red sauce from scratch, it's so much fresher, but there are great prod­ucts on the mar­ket if you do not have the time.