Beef Tataki on a bed of Sunflower Sprouts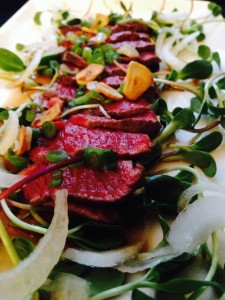 The first time that I had beef tataki was at a restaurant called Spoon and Fork. I enjoyed it so much that I had to make my version to see what was in it.
Being a steak lover, it was such a simple dish that I could make and eat as an appetizer everyday.
[pullquote]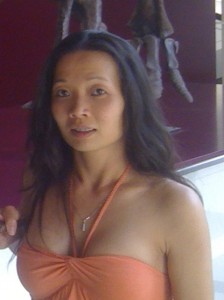 Posted by Leng[/pullquote]
Serving: 2 small Platters
Ingredients:
Tosa-Zu Sauce
5 tbsp Coconut Aminos
½ c Rice Vinegar, organic
1/3 c Shiitaki Mushrooms
1 tsp Black Pepper, freshly cracked
2 Thai Chili, fresh
Beef Tataki
7 oz Beef Tenderloin (grass-fed)
1 tbsp Black Pepper, freshly cracked
2 oz Coconut Oil
2 tbsp Green Onion, thinly sliced
3 Garlic Cloves
1 small Vidalia Onion
1 c Sunflower Sprouts
Instructions:
Pat dry tenderloin and roll in the tbsp of freshly cracked pepper.
Quickly sear beef in coconut oil until no red is visible, then remove from heat immediately.
Allow to rest to room temperature before thinly slicing. Place tenderloin in freezer to allow it harden for easier slicing (this can be done hours ahead, enabling better, thinner slice of tenderloin steak).
Combine vinegar and coconut aminos, then heat in a small saucepan, to a low simmer.
Add Shiitaki mushrooms and remove off heat.
Once cooled, strain to remove the mushrooms.
Thinly slice and add sliced Thai chili peppers.
Thinly slice garlic and cook on low in remaining oil until golden brown (if needed replace old oil), then drain on paper towel.
Thinly slice green onions and Vidalia onion.
Thinly slice the beef.
Arrange tenderloin slices on a bed of sunflower sprouts and Vidalia onions.
Top the thinly sliced medallions with green onion and the garlic.
Generously drizzle the Toza-Zu sauce over the tenderloin and serve.
This is a great party dish, that is healthy, tasty and might even convert some vegan friends 😉