Paleo-Coffee Brine for Chicken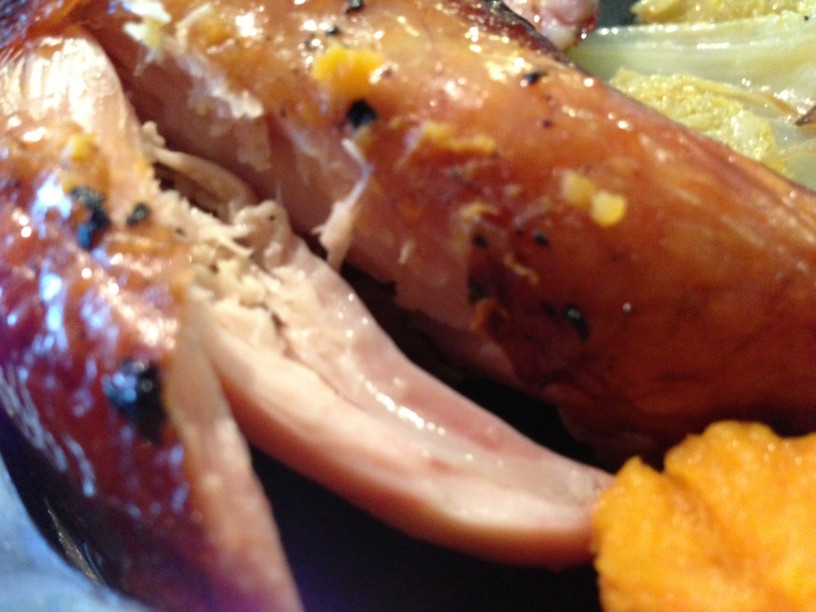 In Canada, on Victoria Day (May 24) Weekend, we're out barbecuing up and I'm chillin' on the patio drinking my version of the Robb Wolf's NorCal Margarita! Before throwing any chicken on the BBQ, I always brine it first to trap in the mouth-watering juices of the chicken. Although this recipe is good for a regular size chicken, we have even used it with drumsticks (about 8) for barbecue days like this.
Yield: Brine for 1 (2.5 lb) Chicken
Ingredients:
1½ c Coffee
2 c Water
¼ c Sea Salt, fine
3 tbsp Raw Honey
2 tbsp Chili Powder
½ tsp Crushed Red Pepper Flakes
½ tsp Cumin
3 Garlic Cloves, crushed
1 Cinnamon Stick
Instructions:
In a large pot, stir together coffee, salt and honey.
Once salt and honey have dissolved, stir in chili powder, cumin, red pepper, garlic and cinnamon.
Bring brine to a boil, infusing the spices.

Remove from heat and stir it in the cold water.

Ensure brine is cool before adding chicken.

Submerge chicken in brine (if needed weigh down chicken with a plate).

Refrigerate whole chicken for 12 hours (if using drumsticks brine only 4 hours).

Remove chicken from brine and discard liquid.

Let the chicken air-dry in the fridge for about an hour.
Cook your chicken whole or in parts using your desired cooking method (ie: BBQ, baking, etc…) and rub or sauce (reduce the amount of salt in your rub or sauce) on it.
One of the tricks we use to do when I was cooking in restaurants was to cut through the knuckles of the drumsticks, cut off the wing tips and throw those pieces in a stock bag in the freezer. The reason for doing this was to give openings into the bones for heat and flavour.