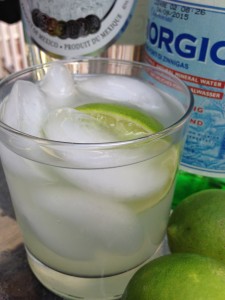 I'm sitting of the patio drinking my version of the Robb Wolf's NorCal Margarita!
Ingredients:
2 oz Tequila, Silver (100% Agave)
1 Juice of Lime
Splash of Carbonated Mineral Water
Instructions:
Fill Glass with Ice (the more ice the stronger the drink).
Add Tequila.
Add juice of lime and half of the squeezed lime.
Cut with desired amount Mineral Water.
Enjoy!