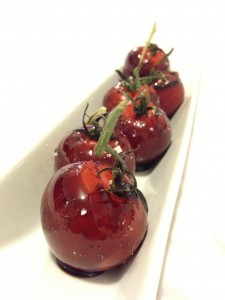 This little surprise (surprenant) of a candied tomato is an excellent appetizer for dinner parties, with this sophisticated touch of flavour from the Feur De Sel and they are oh so simple to make!
Makes: 6-8 Tomatoes
Ingredients:
6-8 Vine Ripened Tomatoes (or 1 pt Grape or 12 plum Tomatoes)
2 oz Balsamic Vinegar
1 oz Wildflower Honey
1 tsp Fleur De Sel (or Sea Salt)
Instructions:
In a small pot combine over medium-low heat the honey & vinegar, reducing till it coats the back of a spoon.
Remove from heat and dip the tomatoes into the balsamic reduction, in batches.
Continue to re-dip the batches until all the reduction is used up.
Finish with a couple of specks of 'Fleur De Sel' per tomato.
This is an excellent appetizer that has the depth of balsamic, sweetness of the honey, and savoury of the tomato.