Pork Sirloin with an Onion-Merlot Reduction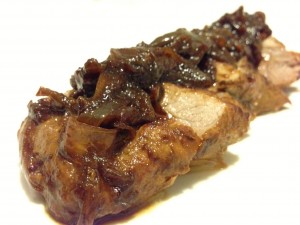 This is an easy going dish that takes little effort to make.  The good thing about it is that my kids love it!  Don't worry, the alcohol gets cooked out during the reduction.
Serving: 4
Ingredients:
2 x 1 lb Pork Sirloin Roast, boneless
4 Onions, thinly sliced
2 Green Onions, diced
4 Garlic Cloves, minced
3 tbsp Coconut Aminos
3 tbsp Ghee
½ cup Merlot
1 tbsp Pepper, freshly cracked
Instructions:
In a pan sauté all onions in the coconut aminos & ghee, until soft.
Add the sirloin to the pan, cover, and cook for 10 minutes per side.
Remove lid, add garlic and pepper, cook for 5 minutes per side.
Remove sirloin, cover sirloin with foil and let rest.
Add Merlot to deglaze pan, approximately 5 minutes.
Slice the sirloin on the bias against the grain.
Serve onion-merlot reduction over the sirloin.
Serve it with your choice of vegetables, such as Roasted Heirloom Carrots or Paleo Rice.