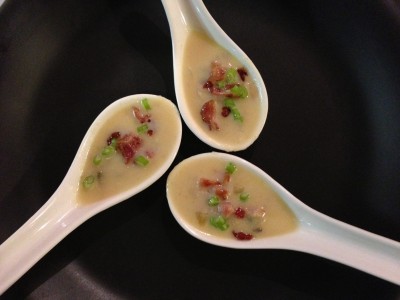 I have really been in the mood for some New England Clam Chowder, but lets face it chowder is hardly a Paleo friendly dish.  Unless cauliflower and butternut squash are the base for this dairy-free soup.
Serving: 3 litres
Ingredients:
3-142 g cans Minced Clams
1 L Water
5 (125g) Bacon strips
4 (200g) Onions
1 Cauliflower Head
1/2 Butternut Squash, small
2 c (500 ml) Fish Stock (or Poe Boy's chicken stock)
1-400 ml can Coconut Cream or Coconut Milk
2 Bay Leafs
Salt & Pepper
Optional garnish:
6 Bacon strips

3 Green onions
Instructions
Drain the clams, being sure to save the juice (If using fresh clams, chop them up).
Peel and remove seeds from butternut squash and chop into cube size pieces.
Cut cauliflower into bite size pieces.
Dice up onions and cut bacon into small pieces.
Combine clam juice and water in a saucepan, bring to a boil, then remove from heat.
In a large pot (this pot needs to hold all the chowder) sauté the bacon over medium heat.
Add onions and cook until soft (do not brown).
Remove onion-bacon mix and set to the side.  Add clam juice, cauliflower and butternut squash to the pot.  Bring to a boil, then reduce to a simmer until tender (if vegetables aren't covered, add more water).
Using an emmersion blender, purée the cauliflower mixture smooth consistency (if you do not have an emmersion blender, transfer in batches to a food processor).
Stir in clams, bacon & onions, fish stock, coconut milk and bay leafs.
Simmer for 15 minutes.
Add salt and pepper to taste.
(optional) Garnish with fresh bacon bits and green onions.
The longer you allow the chowder to simmer, the thicker it will become.  However this chowder tastes even better 24 hours later!
Related articles